If you are seeking a cosmetic treatment that will result in a flatter stomach, you're most likely debating between liposuction vs. a tummy tuck. Liposuction and a tummy tuck (also known as an abdominoplasty) are two surgical procedures that work to remove excess fat and improve the appearance of the abdomen, resulting in a slimmer and more attractive appearance.
Do I need a Tummy Tuck or Liposuction?
You may wonder if you need lipo vs. tummy tuck to improve your shape. If you have loose skin in your abdominal area, such as love handles, hips, and thighs, liposuction may be beneficial. It can be helpful if you have fat deposits but are otherwise at a healthy weight.
You may need a tummy tuck if you have a bulge in your stomach and want it to be flatter. If your muscles need to be tightened and exercise isn't working, a tuck can help you look thinner.
So, which is right for you? There are a few different factors to consider, but the best way to determine whether liposuction or a tummy tuck is the best procedure for you is to schedule a consultation with a respected plastic surgeon. During that consultation, the surgeon will listen to your goals, examine your body and medical history, and then use their expertise to suggest the best treatment for your needs. If you are not quite ready for a consultation, then read on to learn more about what differentiates liposuction vs. a tummy tuck.
What Is Liposuction?
Liposuction removes unwanted fat from problem areas located all over the body, including the chin, arms, hips, back, thighs, and abdomen. Liposuction is not a "weight loss" treatment, and all liposuction patients are expected to be in good physical condition. The pockets of fat that will be removed are located in areas that cannot be addressed by exercise and diet. A small incision will be made in the target area, and a tube, called a cannula, will be inserted into the incision to suck out excess fat.
What Is a Tummy Tuck?
A tummy tuck is a surgical procedure that aims to remove excess skin, fat, and tissue from the stomach while also tightening abdominal muscles for a more toned midsection. The skin and tissue around the stomach can expand with weight gain, pregnancy, and age, so a tummy tuck aims to remove any unattractive hanging skin. During a tummy tuck, an incision will be made that goes from hip to hip, spanning the entire midsection. Then, excess tissue, skin, and fat will be removed and the abdominal muscles will be tightened and toned, resulting in a flat, firm stomach. In some cases, liposuction may also be utilized during a tummy tuck to remove additional fat.
Liposuction vs. Tummy Tuck
Now that you have an understanding of the two procedures, it is time to identify some key differences between liposuction and a tummy tuck procedure.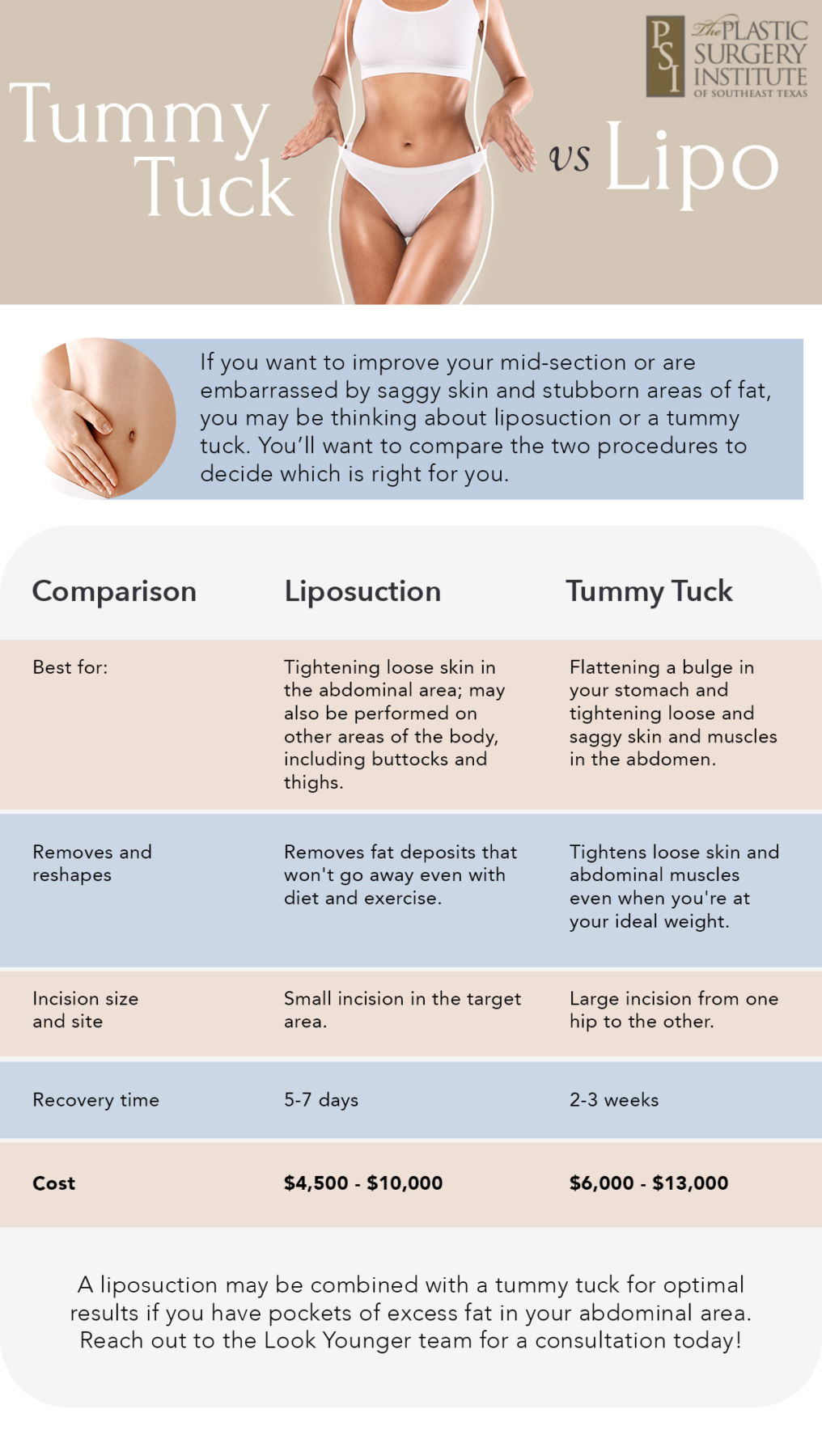 Liposuction vs. Tummy Tuck Candidates
While both liposuction and tummy tuck candidates are looking to trim excess fat from their midsection, there are some key differences between the ideal candidate for liposuction vs. a tummy tuck. Liposuction candidates should be individuals who have an unwanted accumulation of fat that will not go away regardless of fat and exercise. A tummy tuck candidate has excess fat around their midsection, but they also have excess skin and tissue around the stomach that they would like removed. Pregnancy, drastic weight gain or loss, and age can result in loose, hanging skin around the midsection, and a tummy tuck would remove this excess skin in order for patients to have a flat stomach.
Liposuction vs. Tummy Tuck Results
Both liposuction and a tummy tuck produce amazing, long-lasting results. Liposuction results in less fat around the stomach, giving patients a flatter, better-proportioned midsection. Liposuction results are permanent, as the procedure completely removes existing fatty tissue from the stomach. However, if the patient gains weight, then new fatty tissue can develop.
Tummy tuck results in a slimmer, firmer, and more toned midsection. The abdominal wall will be significantly stronger, and combine that with the loss of excess skin and fat results in a flatter midsection. Results from a tummy tuck are permanent, but weight gain or pregnancy will restretch the skin around the stomach and reverse the results of the procedure.
Liposuction vs. Tummy Tuck Recovery Time
It is only natural for any potential patient to want to limit the amount of recovery time following a procedure. A tummy tuck requires far more recovery time, as patients are expected to take somewhere between 2-3 weeks off from work and other activities to fully heal from the surgical procedure. Liposuction surgery has a much more speedy recovery time, as patients can usually return to their normal routine within 5-7 days.
Liposuction vs. Tummy Tuck Scarring
One goal of any plastic surgeon during a cosmetic procedure is to minimize the appearance of any scars, strategically making incisions so that scarring will not be visible. However, regardless of a plastic surgeon's skill, some scarring will occur following liposuction or a tummy tuck procedure.
Liposuction usually leaves patients with very small scars at the site of the cannula incision(s), but these scars tend to fade with time. A tummy tuck will result in a large scar spanning the lower abdomen, but the incision is strategically made during the surgery so that the scar can be easily hidden. A tummy tuck scar will be hidden by undergarments and bathing suits, meaning that as long as you are wearing clothing the scar will not be visible.
Liposuction vs. Tummy Tuck Cost
The cost of a procedure is always an important factor to consider, which is why it is important to compare liposuction vs. tummy tuck costs. Since a tummy tuck is a more invasive and complicated procedure, it is more costly. A tummy tuck's average cost is somewhere between $6,000 and $13,000, while liposuction's average cost is between $4,500 and $10,000. Keep in mind that the only way to get an accurate cost estimate for any cosmetic surgery procedure is to schedule a consultation with a plastic surgeon.
Can You Do Tummy Tuck and Lipo Together?
Doctors may recommend liposuction with a tummy tuck if you need to remove excess fat tissue and extra skin. Many patients who choose to have a tummy tuck want liposuction to help them achieve that hourglass shape.
Liposuction will remove the excess fat in the area being treated. Once the fat has been removed, the tummy tuck can tighten the surrounding muscles and get rid of loose skin. The results can be more dramatic with the two procedures combined.
Benefits of Tummy Tuck and Lipo Procedures?
Both tummy tucks and liposuction provide benefits based on your goals and needs. Liposuction provides fat removal for permanent results. A tummy tuck reduces loose and sagging skin and repairs the abdominal muscle.
If you have lost weight, a tummy tuck can get rid of the loose skin that's left, which may help you have more self-confidence in your new body. This procedure can make your abdominal muscles stronger, ideal for anyone with weak or untoned muscles.
One advantage of liposuction is that it can be performed on various areas of the body. A doctor may recommend lipo for your buttocks, calves, arms, and other regions. It removes fatty tissue, which helps you reach your ideal weight and be healthier.
When you speak with Dr. Lapuerta, he will discuss the benefits of the two procedures with you for your situation. Armed with this information, you can make the decision about which procedure is right for you.
Risks of Tummy Tuck and Lipo
As with any procedure, tummy tucks and liposuction come with certain risks. The main risks with a tummy tuck are infection around the wound site and complications from the wound. You may also notice a change in sensation in the area, which can lead to numbness.
After a tummy tuck, pockets of fluid may form under the skin, which is temporary. The doctor will need to drain the pockets to help promote healing. Fatty tissue inside the abdominal area can get damaged and die. If this happens, the tissue must be removed through surgery.
Liposuction provides a different set of risks, including irregularities or waves in the skin, keeping it from being smooth. Just like with a tummy tuck, you may experience numbness in the area and pockets of fluid may build up.
You will be at a higher risk for infection around the incision. If the fat breaks away, it can be trapped in a blood vessel, which may travel to the lungs or brain and cause an embolism. The cannula used to remove the fat can penetrate too deeply and puncture an organ. It's important to work with a board-certified and respected doctor who has many successful surgeries to their name – an experienced doctor who is familiar with risks can minimize them and provide a successful experience.
Request a Liposuction vs. Tummy Tuck Consultation with Dr. Lapuerta
It can be tough to choose between liposuction and a tummy tuck. There are several different factors to consider, and that is why it is essential to consult an expert. If you are unhappy with the appearance of your midsection and stomach, it is time to schedule a consultation with an experienced plastic surgeon.
Dr. Leo Lapuerta is a triple board-certified plastic surgeon with over two decades of experience performing liposuction and tummy tuck procedures for patients in Katy, Pearland, and Houston, Texas. During a consultation, Dr. Lapuerta will partner with you to help you reach your cosmetic goals, devising an individualized treatment plan to help you look and feel your best. Contact Dr. Lapuerta today to schedule a consultation via our contact form or by calling (713) 489-0169