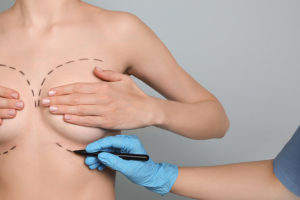 Patients considering breast enhancement surgery have an exciting journey ahead of them! A world of self-confidence awaits — but first, it's important to do some research. Once it's decided a patient would like to undergo breast enhancement surgery, it's still a question of which one will work best for their body. After some research, most patients find that one option suits them better than the rest. 
There are a number of breast enhancement surgeries to choose from, and Dr. Lapuerta is a trusted provider that can perform them all. For patients interested in having procedures done to enhance their breasts, they might consider:
We are often asked "can you get a breast lift without implants?" We understand this confusion; as breast augmentations are among the best-known enhancement surgeries, many patients assume a lift is only possible with implants. However, this is not the case — a breast lift without implants is entirely possible, and these are two entirely separate procedures. In fact, it's becoming increasingly popular amongst patients, and these days many women opt for lifts over an augmentation procedure. 
Let's dig a little deeper — here, we'll discuss the breast lift procedure, how to enlarge breasts without implants, and why an increasing number of women are opting for this procedure over more traditional enhancements.
What's The Difference Between a Breast Lift and Getting Implants?
While a breast lift and getting implants deliver similar results, each procedure has key differences that will impact a patient's decision on which is best for their body and aesthetic goals. Some patients may also choose to combine the two surgeries for a more dramatic effect. We recommend plenty of research, followed by a consultation with a skilled surgeon to discuss the options available. Living in the Houston area? Get in touch with Dr. Lapuerta for an informative consultation and expert opinion. Here are a few procedures patients might consider: 
Breast implants are the most popular form of plastic surgery in the country —  and are perhaps the most famous worldwide. An augmentation surgery produces noticeably larger, more shapely breasts.
A breast augmentation procedure is performed under general anesthesia and involves the surgical insertion of a saline or silicone implant. This is accomplished by making a small incision near the breasts before creating a small pocket for the implant, which will be positioned beneath the breast tissue. The surgery lasts one to two hours. Recovery from breast augmentation surgery is straightforward; after two weeks, patients generally return to work, though exercise should not be resumed until at least the four to six week mark. Most patients see full results within six months of surgery. 
Breast Lift (Without Implants)
Can you get a breast lift without implants? Of course! Breast lift surgery has soared in popularity in recent years, for good reason. This life-changing procedure allows patients to regain their youthful perkiness, enhancing their breasts without artificial implants. 
So, how is a breast lift without implants done? A breast lift, or mastopexy, is performed by making several incisions around the patient's breast before removing excess tissue and fat from the area. The specifics about incision placement and number will depend on the individual patient; this will be discussed during a thorough pre-op consultation. Following tissue removal, a surgeon will carefully reposition the nipple and areola before placing sutures deep within the breast wall. The entire procedure takes three to five hours, and patients should plan for six to eight weeks before they can resume strenuous activity. 
Many patients have begun combining their breast augmentation surgery with a lift. This "two birds with one stone" technique allows for a more pronounced result: perky, full breasts. It is also a much more time and cost-effective option for patients planning to eventually have both procedures down the line.
How To Enlarge Breasts Without Implants
So, can you get a breast lift without implants? Yes. Will that procedure enlarge the breasts? Unfortunately, no. However, if a patient is wondering how to enlarge breasts without implants, there's a great option for them to consider: fat transfer surgery.
Fat transfer surgery is performed by using liposuction to harvest excess fat from one area of the patient before injecting it elsewhere on their body. This procedure can be performed on many areas, including lips and buttocks, with breasts as a very popular choice. 
Though this procedure does not change the shape or perkiness of the breasts like a lift, it enhances their size. The results will not be as dramatic as those with a traditional augmentation.  Many patients prefer this technique, as these less dramatic effects can look more "natural" than implants. Furthermore, many patients consider it a plus to effectively have two procedures during one surgery: as the fat injected into their breasts comes from their own body, it allows patients to trim down in an area of their choice. 
Where Can You Get a Breast Lift Without an Implant in Southeast Texas?
Looking for a breast lift without implants? We've got you covered. Dr. Leo Lapuerta has been helping Southeast Texans meet their aesthetic goals for over 20 years. 
If you're ready to discuss your potential breast enhancement procedure, get in touch with our team to schedule a consultation. 
We can't wait to meet you and help you meet your goals!